iDesk
SALES & PROJECT MANAGEMENT
help you manage

sales, projects, CRM
and enables controlling and document system

ABOUT SOLUTION
Web-solution designed for managing sales, projects and CRM
Monitor the entire process, from the first contact with the potential customer to the final project implementation and after-sales activities.
The easy-to-use product includes dynamic dashboards, Pipeline control, graphic KPIs, Milestone management, Gantt-charts, Controlling, Document system and other useful features.
Remarkable flexibility in usage and settings, as it is used by both designers, project managers, supervisors, as well as fully diametric services.
 BENEFITS
Complete paperless workflow
for companies by circulating documentation, possibility of complex individual process paths for individual groups of documents, transmission and connection to back-office ERP financial and accounting software, validation of documents, storage and division.
Automatic storage of photos and videos
with the possibility of direct capture from all mobile devices and immediate sharing between project participants and back-office services.
For all processes and each individual document, a time revision with delays, confirmations and redirects is visible.
The perfect tool for document management, the circulation of documentation within the company and the transition to a completely paperless business model
Perfect for companies with a desire to control their real estate portfolio.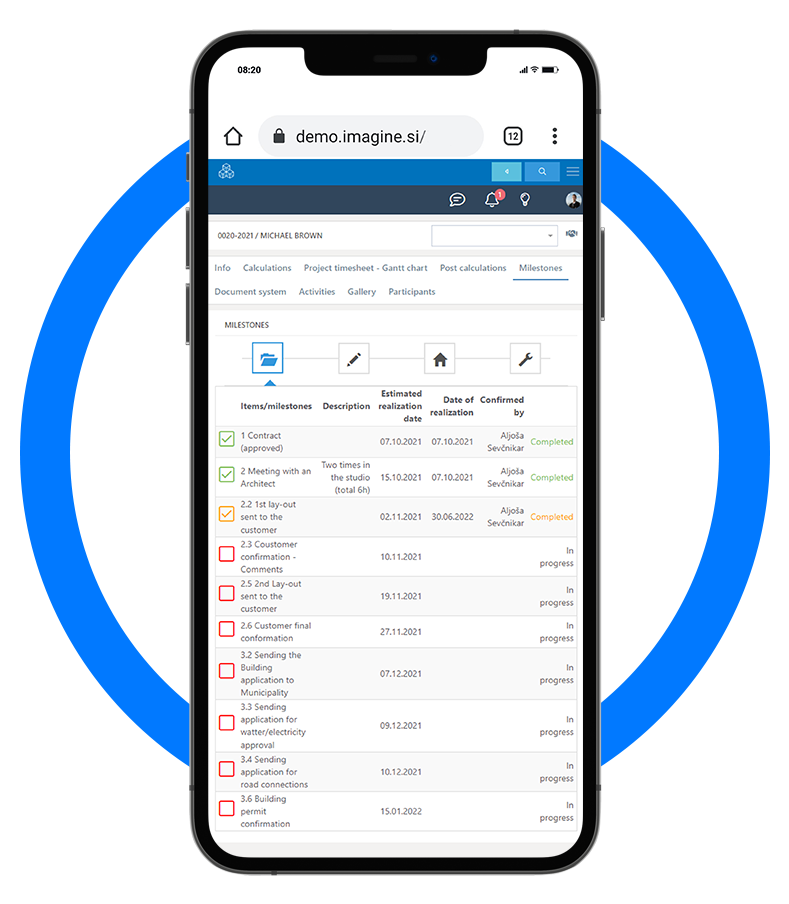 TWO MODULES
CRM Sales Module
Project management modul
CRM Sales Module
For comprehensive overview for market sector work with contacts and leads, reminders, correspondence, Pipe-line structure for MQL and SQL, marketing analytics and BI overview of potential, realized and lost Leads. In case of successfully closed sale the project can be created automatically.
Project management modul
EASILY ACCESSIBLE & EASY TO USE
Accessible anywhere, anytime and from any kind of device with web access.
Easy-to-use solution with user-friendly interface and management tools.

 

Predefined dashboards, interactive graphs, and one-click executive reports.
Due to simple solution, instructions for average use are not even needed.
Instant import of data (buildings, units, owners/users) meters and meter readouts, from various sources into the iDesk database

Integration of existing complementary databases.

Integrated, interactive and visualized user instructions.
We take industry-leading security measures to protect and secure your data with the latest technology.

 

All data is safely stored in the Oracle cloud with leading security technologies.
iDesk is in compliance with the GDPR.
Option to set rights to project groups or individuals.
We offer various types of support to our clients.
Our support system iPodpora is integrated into all our products.
The use of our products is easy, we strive to be "invisible" for the user.
Imagine is certified and audited by:

 ISO 9001: 2015 Quality Standard

 ISO/IEC 27001:2022 Information Security Standard 

 ISO 22301:2019 Business continuity management systems

ISO/IEC 27017 – Information security guidelines for cloud services
Due to its flexibility and ease of use, the iDesk module is implemented in various industries
the wood industry,
the production companies, economy,
law firms,
retail chains,
maintenance,
real estate – financial sector
… as it forms a comprehensive digital platform for reviewing and working with the Real Estate portfolio in conjunction with iNep and iFacility solutions and between different divisions within companies.
The largest users of iDesk are real estate funds, insurance companies, banks and industries, which require management of a large number of real estate, including trade, pharmacy, etc.
Real Estate management solution to control data
Transparent real estate data preview and control to manage your from one place.
Facility management for centralized record of requests
Supports submitting, resolving and monitoring requests.