Bratislava Property Forum conference which was jointly organized by Property Forum and RICS has been taking place on the 8th of April. The conference was a great opportunity to hear from and network with all the important players in the Slovak and CEE property industry. There were leading experts from the real estate sector, senior economists, bankers and other industry experts discussing major trends and changes for the property industry.
Besides the classical retail, office and residential panel discussions, the leading theme of this conference was the ESG. Primarily known as Sustainability, now ESG (environmental, social, governmental) has become a new normal of thinking with developers. To achieve ESG goals companies have to change the way they think, design, build and operate. As some of the speakers emphasized, ESG is not only about efficient buildings it is also about smart operations of development companies and meaningful interaction with the local society. This is where the new property technologies (BIM, IoT, IWMS, digital twin) will play a vital role in enabling the achievement and maintaining of ESG goals.
The real estate markets in the CEE region are very dynamic with a substantial amount of domestic and foreign capital driving liquidity, growth, and development of the real estate industry. Slovak market in particular has several strong local developers who are giving a tempo to the strong residential and commercial real estate development. Regardless of the current turbulences caused by COVID and the War nearby the market is still going strong and the prices of the prime as well as secondary real estate are growing steeply. Still, developers are facing many challenges arising from the growing construction and material costs (15,6 % last year) as well as growing inflation (currently 9,5%) which is substantially surpassing expected yields as well as bank loan interest rates. Nevertheless, developers are still investing although as they said more investment will be allocated to the residential market which is more robust and stable. The local market being overheated many Slovak developers are also expanding to other regional countries among others also to Slovenia. One good example being Corwin development with three large residential and commercial developments in Ljubljana.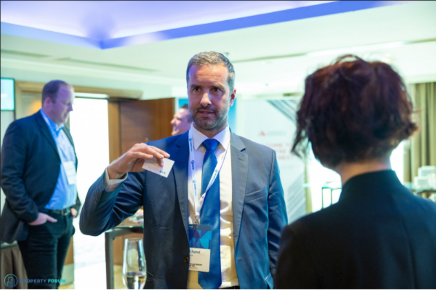 As portfolios from these developers are growing so is growing their demand for quality technological solutions to support the asset and property management processes. Regardless of their policies or strategies whether they are managing their portfolios in-house or outsourcing them they have all expressed high interest in having their processes managed by a quality IWMS solution which would provide them with transparency and analytical tools for quality decision making. Some of them already have partial solutions but those are not attending to their needs in a satisfactory fashion.
That is where we at Imagine see an opportunity to work with Slovak developers and property managers with our extensive experience in the real estate industry and in the digitization of real estate management.
Imagine PropTech solutions support companies in managing their real estate portfolios conveniently and transparently. Our IWMS solution covers a broad spectrum of functionalities: Asset and Property management, Facility Management, Project management and Energy management/accounting including ESG management.